Housing and services area Zagłębianka (I)
par | Mai 2, 2018 | Tereny inwestycyjne FR |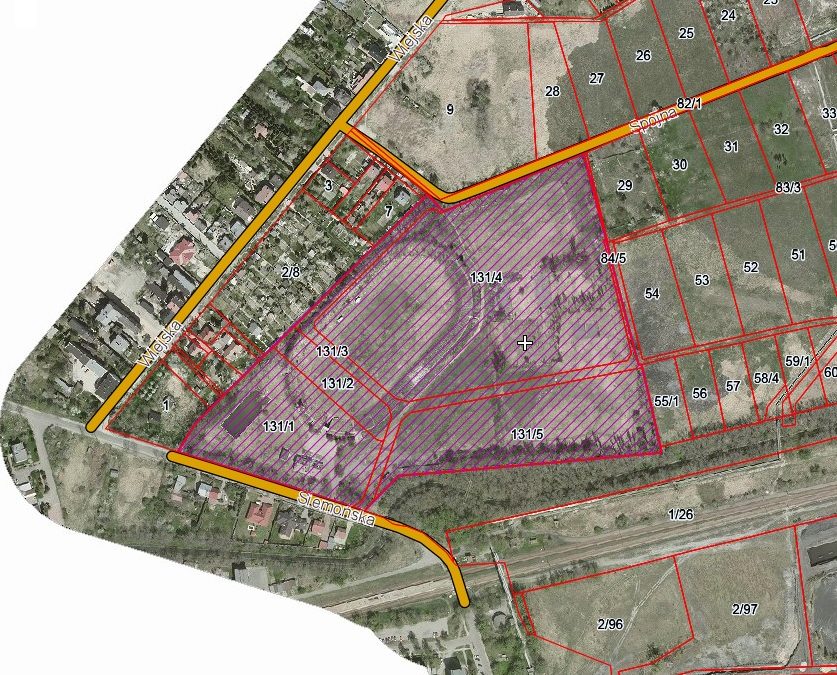 Location: undeveloped land located at the border of the city of Będzin, 3.5 km from the center of Dąbrowa Górnicza. In the immediate vicinity is a multi-family residential housing estate and single-family housing development.
Description of the property: real estate with a regular shape similar to a trapezoid, not unfenced. Flat area, covered with grassy vegetation and single trees.
The technical area of ​​the gas pipeline runs through the south – western part of the property.
The content of the base map shows that there are sewage manholes on the property – their condition is unknown.
In Siemonowa Street there is a basic technical infrastructure.
The property was part of the sports facility stadium « Zagłębianka ». In 2013, demolition works of all facilities located on it were carried out in accordance with the obtained permit for demolition, and the area was leveled.
Access: via Kołłątaja, Koszelew and Siemońska Streets.
Owner: Dąbrowa Górnicza commune. The District Court in Dąbrowa Górnicza – VI Division of Land and Mortgage Registers keeps the land and mortgage register no. KA1D / 00034154/6.
Area: 3789 m2
Geodetic markings of plots: geodetic no .: 131/2 (plot 9, precinct Dabrowa Górnicza)
Purpose in the local spatial development plan: According to the current plan entitled: « Local spatial development plan for the city of Dąbrowa Górnicza for the areas located in the area of ​​the railway line Katowice – Katowice, ul. Powstańców, Zielona Park up to the administrative border with Będzin « , approved by Resolution No. XLII / 770/09 of the Dąbrowa Górnicza City Council of 30/09/2009, published in Dz. Office. Province of Silesia No. 201 of November 17, 2009, item 3673, the property is located in the area marked as symb. plan:
1MN – areas designated for basic single-family housing with unobtrusive services as a complementary function.
Detailed conditions for the development of the property (including prohibitions and prohibitions) are included in the provisions of the above-mentioned local zoning plan, which should be read in the Department of Urban Planning and Architecture.
The form of real estate sale: tender.
Link to the tender: no proceedings at present
Additional information about real estate and tender conditions is provided by:
Agnieszka Wajda
Real Estate Management Department
City Hall in Dąbrowa Górnicza
21 Graniczna Street
Second floor, room No. 230
tel. +48 32 295 68 33